Meet Our Doctors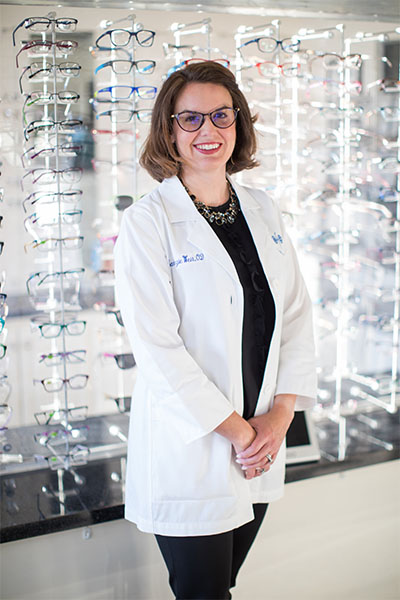 Dr. Mackenzie Weir
Amarillo Family Eyecare was founded by Dr. Mackenzie Weir in 2011. Our first patient was seen on December 7, 2011. Dr. Weir was born in Oklahoma City and grew up in Amarillo. She attended St. Andrew's Episcopal School for elementary school, went onto Austin Middle School, and graduated from Tascosa High School in 2001. Dr. Weir is proud to call herself an Amarillo native and enjoys practicing in her hometown! Upon graduation from high school, she attended Texas A&M University where she received a Bachelor of Science degree in Molecular and Experimental Nutrition in 2005. Both she and her husband, who also attended Texas A&M, are huge Aggie supporters. After graduating from A&M, Dr. Weir spent a year in Amarillo in order to work as Representative John Smithee's District Director. She thoroughly enjoyed this position because it allowed her to be in touch with all the community events, while also speaking directly to Representative Smithee's constituents. Dr. Weir then obtained her professional optometry degree from Northeastern State University Oklahoma College of Optometry in Tahlequah, Oklahoma. Oklahoma has the broadest scope of practice in the country; therefore Dr. Weir was trained to manage diseases and perform procedures she may not be able to do again while practicing in the state of Texas. Each year, NSUOCO only accepts 26 students and graduates 26 students. Dr. Weir is extremely proud of her education she obtained while in Oklahoma and feels very confident to manage a multitude of ocular diseases and visual disorders with her background. Although she practices to the full scope of optometry Texas law allows, her true passion is pediatrics. She examines patients of all ages, but has a special heart for the little ones!
Dr. Weir is married to Patrick Weir, a board-certified attorney and shareholder of the Brown & Fortunato Law Firm in Amarillo. Dr. Weir's pride and joy are her children – a son, Shelton Benjamin, who was born on December 24, 2013, and a daughter, Zenna Beth, born a day earlier than her brother in 2015! Yes, Christmas will be quite busy in the Weir household for many years to come. Life as a Mommy couldn't be any more rewarding and enjoyable! Dr. Weir makes it a priority to spend as much time with her children as possible. Dr. Weir's interests include running with her kids in their double stroller, reading, volunteering at the Hope and Healing Place, being outside, and most of all being with her family. Dr. Weir's community involvement extends into many facets. She is a member of the Advisory Council for Panhandle PBS, she is a member of BSA Women's Circle, she is a member of an elite women's organization known as Pinnacle Club, she is a member of the Junior League of Amarillo, she serves on the Amarillo Area Foundation's Catalyst Grant Program committee, she is on the board of Amarillo Montessori Academy, and she is a member of First Presbyterian Church of Amarillo. Dr. Weir also has 2 Labrador retrievers, Bogie and Iris, whom she absolutely adores. They are her furry children and come to the office on occasion!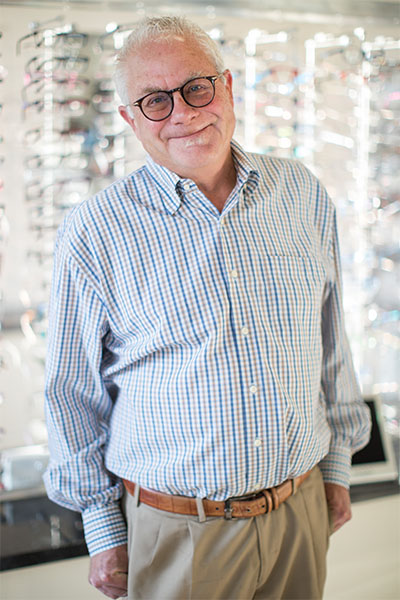 Dr. Chafin
Dr. William Robert "Rob" Chafin was born in Oklahoma City in 1956. When he was young, his family moved to Pampa, Texas. He attended Pampa Public Schools from elementary school through his graduation in 1974. He then went onto Texas Tech University, where he graduated with a B.A. in Chemistry in 1979. He received his doctor of optometry degree from the University of Houston College of Optometry from in 1983. After graduation, he practiced at Simmons and Simmons in Pampa for his first year. He then moved to Amarillo where he fell in love with the city and his wife. Which of these loves came first is still a question, so Amarillo is where he made his home. He began working next to the Texas State Optical on Western Street, and in 1988 decided to buy the franchise. After several years on Western Street, he moved TSO to the Georgia Street location within Wolflin Village 8 years ago. His areas of optometric interest include contact lenses, especially multi-focals, and any patient over the age of 40.
He is happily married to Jacquie Humphrey. She is from Oklahoma and graduated from the University of Oklahoma. She is a Certified Public Accountant. Dr. Chafin and Jacquie were married in 1986, the Texas sesquicentennial, which helps him remember. They have a beautiful daughter, Jacy Chafin, who graduated from Tascosa High School in 2011, the University of Oklahoma in 2015, and is currently attending the University of Oklahoma School of Law.
Dr. Chafin has several Amarillo community interests. In the past, he has served on Amarillo Adult Literacy Council and Friends of the Library Boards, and is presently serving on the City of Amarillo Parks and Recreation Board. Dr. Chafin and his family are proud members of the First Presbyterian Church of Amarillo.
Dr. Chafin Joins Amarillo Family Eyecare in the prime of his career. He has owned and operated an extremely successful practice for the last 28 years in Amarillo and looks forward to bringing his vast wealth of knowledge and experience to the AFE family. Dr. Weir and staff look forward to learning from someone as talented and driven as Dr. Chafin.